Welcome, my name is Azrus and I'd like to present my "Einlanzer Pack".
"So, what is the 'Einlanzer Pack'?"
This weapons pack contains 4 brand new weapons with two unique models. Now, keep in mind, these models won't be for everyone. They're sized to be very long, 8 1/2 feet from tip of blade to tip of grip to be specific. They are, however, very detailed models. Whether it's the fine black leather grip and silver engraving on the hilt of the Einlanzer Zwei or the rustic, weathered look of the Rusty Zweihand, I've done everything I know of to bring out as much detail as possible.
"Yeah, but what are the stats!?"
The swords are designed to be useable at different levels, from the Rusty Zweihand with a 10 Str requirement, to the Einlanzer Zwei with a 75 Str requirement. Each sword has been configured to be damage appropriate for the level you can aquire it.
"Speaking of aquiring these weapons.. once I've downloaded the pack, how in the world do I get them?"
Simple, you can purchase a basic version of each sword in the Elddim Blacksmith. You can also aquire each weapon as random loot, ranging from normal, to rare and unique versions.
"Awesome! But will I be looting "Rusty Zweihand"s in Elite?"
You shouldn't, I've tried to set the random loot settings so that they drop on appropriate difficulties and monsters. For example, testing on the "Chicken World" map, I looted 3 enchanted "Einlanzer Zwei"s and 3 enchanted "Einlanzer"s in about 10 minutes (12-16 chickens).
"How many polys are they?"
Einlanzer - 270
Einlanzer Zwei - 275
"Well great... but where's the screenshots!?"
Sorry.. here ya go.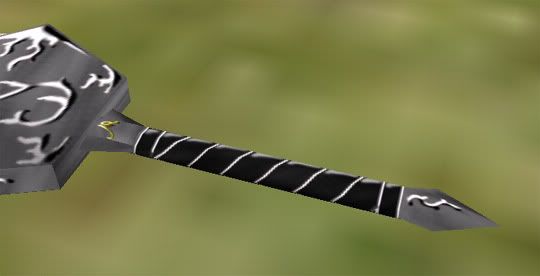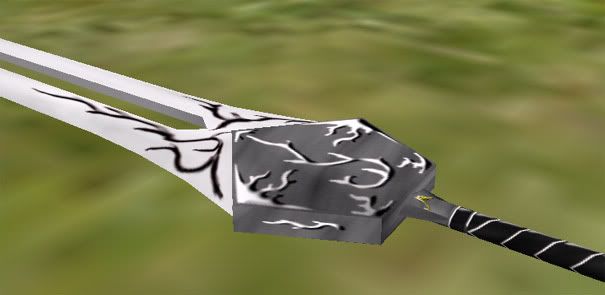 "Awesome! Those look great! Is there anything I can do to help?"
As a matter of fact, there is. Due to time constraints, I've only tested release 2 for about 30 minutes. Any time you find a bug with the model or it's code, please post here so that I can fix it as soon as possible. Also, any suggestions you have are welcome. Oh.. and whatever you do, enjoy the model. It is, after all, why I make models.
"HEY! fool! you forgot the download link!"
Doh! Here you go...
Download at FileFront
Updated - 1/16/2008: Wandered across this post via google! Also wandered across a working FileFront link for the models, so I thought I'd log in and update the link incase anyone cared to download the models. The FileFront link should be working now.
[Edit] First post edited, got it cleaned up and completely updated.
[Edit] Added an alternate download link, thanks a bunch for hosting the pack Dergin!